DROID R2-D2 by Motorola for Verizon
The DROID R2-D2 by Motorola is a natural combination- the most famous Droid in history with the inner workings of the Droid 2. The DROID R2-D2 has all of the features of the DROID 2 plus great Star Wars sounds and music as well as an exclusive "The Best of R2-D2" movie with original Cantina music. Blaze through applications, emails, and across the web at speeds that make your average smartphone look like it's standing still thanks to the super fast 1GHz processor. You can connect to a WiFi hotspot or become one. Wirelessly share your 3G connection with up to 5 other WiFi-enabled devices. Access websites previously inaccessible to any other device on the market with Adobe FlashPlayer 10. V CAST Media Manager organizes, edits, and plays your digital media collection. The high-end 5 megapixel camera snaps pictures and records DVD-quality videos which you can upload directly to YouTube.
DROID R2-D2 by Motorola Highlights & Specs
Highlights
The Look Of The Most Famous Droid In History Along With Great Star Wars Apps and Music
3.7" Touch Screen and Slide-out QWERTY Keyboard Comes With The Android OS
Exclusive Movie "The Best Of R2-D2" With Original Cantina Music and Star Wars Live Wallpapers
Blazing Fast 1GHz Processor Provides An Amazing Web Browsing Experience
Impressive 5MP Camera With Dual LED Flash, Panoramic Mode, Face Detection, and More
Video Recorder Captures DVD-quality Videos, Easily Upload To YouTube
FlashPlayer 10 Offers Access To Sites Previously Inaccessible To Any Other Device Available
Connect To A HotSpot Or Wirelessly Share Your 3G Connection With Up To 5 Other Devices
Slide-out QWERTY Keyboard Plus A Spacious Virtual Keyboard
Customized Widgets Update Your Social Networking Messages In Real Time and All In One Place
Work and Personal Emails and Contacts Are Integrated and Pushed Directly To You
V CAST Media Manager Is A Free App For Organizing, Editing, and Playing Your Media Collection
Android 2.2 Features Improved Multi-tasking, Faster Speed, and Enhanced Exchange Support
DROID is a trademark of Lucasfilm Ltd. and its related companies. Used under license.
WHAT'S IN THE BOX
Additional Items Included-Battery, 8GB microSD Memory Card Pre-installed, Wall/USB Charger, Multimedia Station, Stereo Headset
MESSAGING FEATURES
Multimedia Messaging-Yes, Send and Receive Picture and Video Messages
Text Messaging (SMS)-Yes, Send and Receive Text Messages
Email Client-Yes, Push Email Support: Gmail, Microsoft Exchange, Yahoo and Other Web-based Email
HTML Web Browsing-Yes, Webkit 5 HTML Browser
Instant Messenger-Yes, IM Chat Using Your Favorite Instant Messenger Services, Google Talk Pre-installed
ENTERTAINMENT
App Store-Yes, Download Apps From The Android Market, Exclusive Empire Strikes Back Binoculars App Included
Custom Ringtones-Yes, Downloadable Via The Android Market
Customizable Graphics-Yes, Downloadable Via The Android Market
Facebook-Yes, Check Your Favorite Social Networking Sites All In Real-time Without Logging In
MySpace-Yes, Check Your Favorite Social Networking Sites All In Real-time Without Logging In
Picture Caller ID-Yes
Twitter-Yes, Check Your Favorite Social Networking Sites All In Real-time Without Logging In Or Via SMS
MP3 Player-Yes, Android Music Player With Advanced Custom Settings
Photo Apps-Yes, Facebook, Picasa Photobucket, and Print To Retail Pre-installed
V CAST Enabled-Yes
Streaming Multimedia Support-Yes, Watch Streaming Media Like YouTube Videos and Listen To Quality Music
MP3 Ringtones-Yes, Downloadable Via The Android Market
Games-Yes, Downloadable Via The Android Market
Polyphonic Ringtones-Yes
Ringer Profiles-Yes
DIGITAL CAMERA
Camera-Yes, 5.0MP With Auto-focus, Dual LED Flash, DVD-quality Video Capture, Touch-to-focus, and More
Camera Megapixels-5.0MP
High-End Camera-Yes
Video Capture / Camcorder-Yes, DVD-D1 Video Capture With Easy Upload To YouTube, Custom Settings, and More
Dedicated Camera Key-Yes
Capture Modes-Yes, Panoramic and More
Geo-Tagging-Yes, Advanced 5MP Digital Camera Uses Integrated GPS To Tag The Location Of Your Photos
ADVANCED FEATURES
Bluetooth Stereo Headset (A2DP)-Yes, Stream Music Wirelessly With Stereo Bluetooth Capable Headphones
Bluetooth Wireless Technology-Yes, Connect Wirelessly To Other Bluetooth-enabled Devices Including Car Kits, Headsets and More
Google-Yes, Android 2.2 Froyo Features Adobe Flash 10.0 And Greater Multi tasking Capabilities
QWERTY Keyboard-Yes, Full Slide-out QWERTY Keyboard
Swype-Yes, Text With Swype - Simply Slide Your Finger Over The Letters To Draft A Text Message
Visual Voicemail-Yes, Listen To Your Voicemail Messages In Any Order and Easily Manage Your Inbox Without Calling In
Skype Mobile-Yes
Upgradeable-Yes, Motorola Over The Air Software Updates
GPS Services Support-Yes, Integrated GPS Supports Location-based Services Like Google Maps and VZ Navigator
PC Synchronization-Yes, Sync Your Droid 2 To Your PC Via USB Cable
DLNA-Yes, DLNA Wireless Sharing Of Photos, Video, and Music With Other DLNA Compatible Devices
Use This Phone As A Modem-Yes, 3G Mobile HotSpot Allows You To Wirelessly Connect With Up To 5 Devices
CORE FEATURES
Color Main Display-3.7", 480 x 854 Pixels, 16 Million Colors WVGA Display
Alarm-Yes
Calculator-Yes
Calendar-Yes
Color-Black
Speakerphone-Yes
To-Do List-Yes
Vibrate-Yes
Voice Memo-Yes
Style-QWERTY Slider
Voice-activated Dialing-Yes, Advanced Speech Recognition and Voice-to-text Technology
Languages Supported-English and Spanish
PDA Device-Yes
BATTERY
Battery Type-Li-Ion
Talk Time-Up To 9.5 Hours
Standby Time-Up To 13 Days
TECHNICAL SPECIFICATIONS
Compatible Carrier-Verizon Wireless
Platform / Operating System-Android 2.2 Froyo OS With Motorola Application Platform
Processor Speed-1GHz Processor Loads Web Pages 40% Faster Than The Original Droid
3G Data Speeds-Yes, Where Available
Built-In Memory-8GB Internal User Storage
Expandable Memory Capacity-Yes, Supports Up To 32GB microSD Memory Card (8GB Pre-installed)
Multiple Numbers Per Name-Yes
Touch Screen-Yes, Full Touch Screen
WiFi-Yes, WiFi Capable - 3G Mobile HotSpot Allows You To Wirelessly Connect With Up To 5 Devices
Standard 3.5mm Stereo Headset Jack-Yes
Internationally Compatible-Yes, Global Ready For Use In Over 40 Countries
Hearing Aid Compatible-Yes, M3/T3
Weight-5.96 Ounces
Dimensions-4.6" x 2.4" x 0.5"
Phonebook Capacity-Dependent On Available Memory
Processor Type-TI OMAP 1GHz Processor With Dedicated GPU
TTY Compatible-Yes
Data Download Speed-1xEV-DO rev.A/ 3G
Network Compatibility-CDMA 800/1900
Micro-USB Port-Yes
Mobile Hotspot-Yes, 3G Mobile HotSpot Allows You To Wirelessly Connect With Up To 5 Devices
Predictive Text Entry-Yes
COMPATIBLE RATE PLANS
Device Supports Voice Plans-Yes
Device Supports Verizon PDA Plans-Yes
Device Supports Add-on Line Upgrade Plans-Yes
Available For Purchase Without Service Plan-Yes
Device Supports Add-on Line Plans-Yes
Early Termination Fee-Early Termination Fee $350 (2 yr contracts)
COMPATIBLE FEATURES
Verizon Wireless 3G Mobile Hotspot 2GB Option-Yes
Verizon Wireless Smartphone Data Options-Yes
Verizon Wireless TXT+PIX+FLIX Plan Options-Yes
Verizon Wireless Visual Voicemail Compatible-Yes
Verizon Wireless Voice Plan Options-Yes
Verizon Wireless Smartphone + Hotspot Options-Yes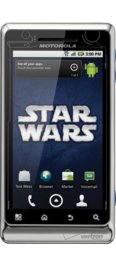 Free Upgrade
Contract extension (also known as upgrade) is the best way to get a great deal on a new phone without switching carriers. Learn more >
Number Portability
Switch carriers & keep your number. Port your existing number to a new cell phone online in minutes. Learn more >