Free Android Phones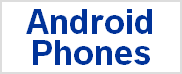 Android is the world's most popular mobile platform. With an amazingly fast browser, cloud sync, multi-tasking, easy connect & share, and the latest Google apps, Android Phones are beyond smart. Get a free or discounted Android phone today. Plus free 2-day shipping!
278
Android Phone Deals
Found. Displaying Deals
1 - 15
:
Display Options:

Thumbnails

Details
Samsung, HTC and LG are among the best Android smartphone makers in the market. The Android Operating System, developed by Google, is one of the most advanced OS for mobile phones today. Some of the Android smart phones above are free with 2 year activation. There's no better time to upgrade your phone to the latest Android phone than today.
New Arrivals
Free Upgrade
Contract extension (also known as upgrade) is the best way to get a great deal on a new phone without switching carriers. Learn more >
Number Portability
Switch carriers & keep your number. Port your existing number to a new cell phone online in minutes. Learn more >