Free Smartphones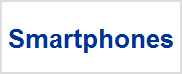 Whether you need to send & receive emails, play games, download apps, or update your Facebook status, smartphones have it all. Choose from the popular Android phones or the new Windows phones. We have many smart phones FREE with new cell phone plans or upgrades.
377
Smartphone Deals
Found. Displaying Deals
1 - 15
:
Display Options:

Thumbnails

Details
Smartphones are the result of combining the function of a personal digital assistant (PDA) with the voice/communication qualities of a cellular phone. With features that generally include e-mail, internet access, scheduling software, GPS navigation ability, and even Microsoft Office and PDF readers, these cell phones are more than smart - they a virtual portable office!
Stay online and on-schedule with the best wireless and PDA capabilities. Blackberries tend to have more appeal to the corporate sector while Andriod or Windows smartphones are more fun. If you are a small business and you need email for your workers, the low priced BlackBerry may be the most economical choice. If you are looking for the latest and greatest and want to have a good time with your Smartphone while staying in touch with work on-the-go, Google Android phones are the perfect solution. Get the best deals, compare the best smartphones from all major carriers today.
New Arrivals
Free Upgrade
Contract extension (also known as upgrade) is the best way to get a great deal on a new phone without switching carriers. Learn more >
Number Portability
Switch carriers & keep your number. Port your existing number to a new cell phone online in minutes. Learn more >