HTC One S Gradient Blue for T-Mobile
The HTC One S for T-Mobile is the next smartphone to take advantage of 4G technology (HSPA+42) running on T-Mobile's 4G Network. The HTC One S is T-Mobile's first phone to ship with Android 4.0 (Ice Cream Sandwich) and HTC Sense 4. With access to T-Mobile's 4G network speeds, the HTC One S allows for a high-quality entertainment experience, which is also enhanced by Beats By Dr. Dre technology. The Beats Audio integration in the HTC One S is enabled for richer, more authentic sound when listening to music. The HTC One S also makes it simple to get and listen to music, with Google Music pre-loaded on the device. The arrival of the HTC One S marks the introduction of HTC's new camera experience, HTC ImageSense! Improvements are brought to every part of the 8 megapixel camera. Camera enhancements include: Super-fast Capture, High Quality Photos in Adverse Conditions, and Concurrent Video/Still Capture which allows you to capture a shot and shoot video at the same time.
HTC One S Gradient Blue Highlights & Specs
Highlights
T-Mobile's First Device With Android OS 4.0 "Ice Cream Sandwich" and HTC Sense 4.0
HTC ImageSense - Major Updates To Every Part Of The Camera Including The Lens, Sensor, and Software
Superfast Capture - Dramatically Reduces The Time It Takes To Snap Nearly Unlimited Continuous Shots
Capture High Quality Photos Even In Adverse Conditions
Capture A Shot and Shoot Video At The Same Time - Perfect For Capturing Moment's As They Happen
Beats By Dr. Dre Audio Integration For Richer, More Authentic Sound When Listening To Your Music
Google Music Is Pre-loaded For Easy Cloud-based Access To Your Personal Music Collection
HTC's Thinnest Phone To Date At Just 7.8mm Thin
Keep Your HTC One S Looking Good For A Very Long Time With A Tough Gorilla Glass Display
WHAT'S IN THE BOX
Battery-Yes
Charger-Yes
USB Cable-Yes
QUICK LOOK FEATURES & SPECIFICATIONS
Camera Megapixels-8MP
Camera (Front)-Yes
Touch Screen-Yes
Internationally Compatible-Yes
GPS Capable-Yes
Use This Phone As A Modem-Yes
Email-Yes
Mobile Web Browsing-Yes
WiFi-Yes
4G-Yes
4G/3G-Yes
Display-4.3", qHD Super AMOLED Display
Operating System-Android 4.0 "Ice Cream Sandwich"
Keyboard-Virtual QWERTY
Built-In Memory-16GB
Dimensions-5.2" x 2.6" x 0.3"
Weight-4.22 Ounces
Battery Type-Li-Ion
Standby Time-Up To 13.2 Days
Talk Time-Up To 10.5 Hours
Data Plan-Required
MESSAGING FEATURES
Multimedia Messaging-Yes
HTML Web Browsing-Yes
Text Messaging (SMS)-Yes
Instant Messaging-Yes
ENTERTAINMENT
Streaming Multimedia Support-Yes
MP3 Player-Yes
Polyphonic Ringtones-Yes
Custom Ringtones-Yes
MP3 Ringtones-Yes
Ringer Profiles-Yes
Picture Caller ID-Yes
Games-Yes
Customizable Graphics-Yes
Facebook-Yes
Twitter-Yes
Photo Apps-Super-fast Capture, Good Photos In Adverse Conditions, Video Pic
App Store-Yes
DIGITAL CAMERA
Front-facing Camera-1.3MP Front-facing Camera
Capture Modes-Super-fast Capture, Good Photos In Adverse Conditions, Video Pic
Camera-Yes
Video Capture / Camcorder-Yes
High-End Camera-Yes
Video Chat-Yes
ADVANCED FEATURES
Visual Voicemail-Yes
Bluetooth Wireless Technology-Yes
Bluetooth Stereo Headset (A2DP)-Yes
Voice-driven Menus-Yes
PC Synchronization-Yes
Text to Speech-Yes
Android-Google's Android OS 4.0 "Ice Cream Sandwich"
CORE FEATURES
Color-Gradient Blue
Style-Candy Bar
Speakerphone-Yes
Voice-activated Dialing-Yes
Voice Memo-Yes
Alarm-Yes
Calculator-Yes
Calendar-Yes
Vibrate-Yes
PDA Device-Yes
TECHNICAL SPECIFICATIONS
3G Data Speeds-Yes
HSPA+-Yes
Standard 3.5mm Stereo Headset Jack-Yes
Micro-USB Port-Yes
Phonebook Capacity-Limited Only By Available Memory
Multiple Numbers Per Name-Yes
Network Compatibility-4G HSPA+/EDGE/GPRS
Compatible Carrier-T-Mobile
Data Download Speed-4G HSPA+, GSM 850, 900, 1800, 1900 UMTS 850, 1700/2100, 1900, 2100
Predictive Text Entry-Yes
Mobile Hotspot-Share Your Internet Connection With Up To 8 WiFi-enabled Devices
Processor Type-1.5GHz Dual Core Snapdragon S4 Processor By Qualcomm
Processor Speed-1.5GHz Dual Core
COMPATIBLE RATE PLANS
Device Supports Add-on Line Plans-Yes
Device Supports Add-on Line Upgrade Plans-Yes
T-Mobile Unlimited Data, Talk, and Text Plan-Yes
Device Supports Keep My Existing Plan-Yes
Device Supports Voice Plans-Yes
Available For Purchase Without Service Plan-Yes
COMPATIBLE FEATURES
T-Mobile Messaging Options-Yes
T-Mobile Smartphone Required Data Options-Yes
T-Mobile Tethering & WiFi Sharing Options-Yes
T-Mobile Visual Voicemail Options-Yes
T-Mobile Voice Plan Options-Yes
REQUIRED PHONE FEATURES
Required Phone Feature-Yes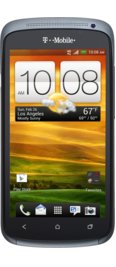 Other One Ss
Free Upgrade
Contract extension (also known as upgrade) is the best way to get a great deal on a new phone without switching carriers. Learn more >
Number Portability
Switch carriers & keep your number. Port your existing number to a new cell phone online in minutes. Learn more >