FREE DROID INCREDIBLE 4G LTE by HTC for Verizon
The DROID Incredible 4G LTE by HTC is an Android smartphone that is as elegant as it is intuitive. Shoot pictures and videos with an advanced, wide-angle lens, 8-megapixel camera with instant activation from the lock screen so you never miss the perfect shot. The integrated Beats Audio delivers a richer sound experience for movies, music, games-everything audio on your phone. The powerful DROID Incredible 4G LTE on the amazing Verizon Wireless 4G LTE network makes for unbeatable download speeds, smooth multitasking and endless entertainment.
DROID INCREDIBLE 4G LTE by HTC Highlights & Specs
Highlights
Android-powered Smartphone With A Crisp, Brilliant 4" qHD Super LCD Screen Display
Connect Instantly Your Way: Social Networks, Email, Text, Video, Call, and More
8MP Camera With Live Effects That Can Be Applied Before The Photo Is Taken
Use The Free Mobile HotSpot Service To Share Your Phones Internet Connection With Up To 10 Devices
Google's Android 4.0 "Ice Cream Sandwich" Supports Your Favorite Apps and Games
Beats Audio Integration To Hear Music, Videos and Games As They Were Meant To Be Heard
WHAT'S IN THE BOX
Battery-Yes
Charger-Yes
Reference Guide-Yes
USB Cable-Yes
QUICK LOOK FEATURES & SPECIFICATIONS
Camera Megapixels-8MP Rear-facing, VGA Front-facing
Camera (Front)-VGA
Touch Screen-Yes
Internationally Compatible-No
GPS Capable-Yes
Use This Phone As A Modem-Yes
Email-Yes
Mobile Web Browsing-Yes
WiFi-No
4G-YES
3G-YES
Display-4.0" 1080p super LCD qHD Display
Operating System-Google's Android 4.0 "Ice Cream Sandwich"
Keyboard-Virtual Keyboard
Built-In Memory-1GB RAM
Dimensions-4.82" X 2.40" X 0.46"
Weight-4.66 Ounces
Battery Type-Li-Ion
Standby Time-Up to 18 Days
Talk Time-Up to 9.5 Hours
Data Plan-Required
ENTERTAINMENT
Streaming Multimedia Support-Yes
MP3 Player-Yes
V CAST Music Player-Yes
MP3 Ringtones-Yes
Games-Yes
MySpace-Yes
Facebook-Yes
Twitter-Yes
Photo Apps-Yes
DIGITAL CAMERA
Camera-Yes
Video Capture / Camcorder-Yes
Front-facing Camera-Yes
Video Chat-Yes
ADVANCED FEATURES
Bluetooth Stereo Headset (A2DP)-Yes
Visual Voicemail-Yes
Android-Yes, Google's Android 4.0 "Ice Cream Sandwich"
CORE FEATURES
Color-Black
Style-Candy Bar
TECHNICAL SPECIFICATIONS
Standard 3.5mm Stereo Headset Jack-Yes
Micro-USB Port-Yes
Phonebook Capacity-Yes
Network Compatibility-GPRS
Compatible Carrier-Verizon Wireless
Expandable Memory Capacity-Yes
Mobile Hotspot-Yes
Processor Type-Yes
Processor Speed-Yes
COMPATIBLE RATE PLANS
Monthly Line Access for Smartphones-Yes
Verizon Wireless Share Everything Plans-Yes
Device Supports Voice Plans-Yes
Available For Purchase Without Service Plan-Yes
Verizon Wireless Share Everything Plans (Basic+)-Yes
Device Supports Keep My Existing Plan-Yes
Device Supports Verizon Account Level Plans-Yes
Device Supports Verizon Account Level Talk & Text-Yes
Device Supports Add-on Line Plans-Yes
Device Supports Add-on Line Upgrade Plans-Yes
COMPATIBLE FEATURES
Verizon Wireless Smartphone Data Options-Yes
Verizon Wireless Smartphone + Hotspot Options-Yes
Verizon Wireless TXT+PIX+FLIX Plan Options-Yes
Verizon Wireless Voice Plan Options-Yes
Verizon Wireless Visual Voicemail Compatible-Yes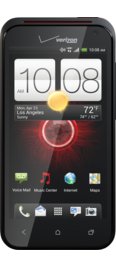 Other INCREDIBLEs
Free Upgrade
Contract extension (also known as upgrade) is the best way to get a great deal on a new phone without switching carriers. Learn more >
Number Portability
Switch carriers & keep your number. Port your existing number to a new cell phone online in minutes. Learn more >